Holy Name School
Holy Name School is a Catholic grammar school in North Camden where miracles happen every day. It is a place where remarkably resilient children, who, according to every social and economic indicator should fail, manage to flourish. It is a place where dedicated teachers, working for nearly half a public school teacher's salary, inspire these children to learn and grow. In a neighborhood battered by violence and economic despair, Holy Name School is a sanctuary, a place of peace where hope is nourished.
Holy Name School has always been a place of miracles and hope. Founded in 1927, Holy Name School first served Irish and German immigrant families who worked in Camden's sprawling factories. Today, Holy Name School sits at the center of North Camden's growing Latino population. Although the languages and complexions have changed, Holy Name's commitment to the mission of Catholic education has remained constant. Hope is reborn in each child at Holy Name and, through each child and their families, hope is reborn in the city.
In 2009, Holy Name School joined with four other schools to form the Catholic School Partnership. A revolutionary model for Catholic urban education which seeks to provide a strong foundational, student-centered academic program that is defined by faith-based values, rooted in respected, and compelled by justice.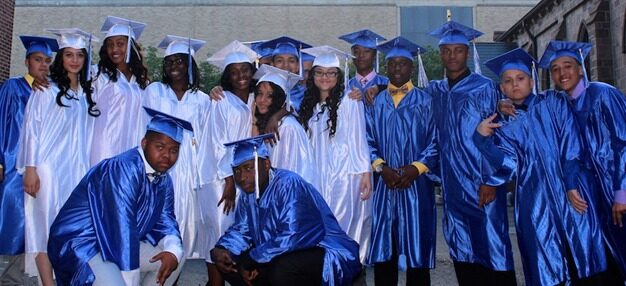 Now in its 92nd year of service, Holy Name School needs your help. Despite the substantial sacrifices of Holy Name's parents and generous subsidies from the Catholic School Partnership, Holy Name School needs your help to fund financial assistance and allow the school to continue serving the children.
---
Holy Name Scholars
The Holy Name Scholars program is designed to help our graduate of Holy Name School succeed in high school and beyond. These graduates attend Catholic high schools in the area and receive financial assistance through the Scholars program. They attend Camden Catholic, Paul VI, Gloucester Catholic, St. Joesph's Preparatory School, St. Augustine, and Cristo Rey. In return, we ask the students to maintain a "C" average or better, participate in monthly community service days, and attend tutoring if needed.
The Holy Name Scholars program provides a system of care and support for all of our students from kindergarten to and through college. We are privileged to work with amazing students in Camden and help them succeed.
Holy Name Scholars has a 100% college acceptance rate. ur recent graduates are studying at: Rutgers University, Saint Joseph's University, LaSalle University, Holy Family University, St. Peter's College, Camden County Community College, Seton Hall University, and many others.